When we consider the current digital marketing space, Facebook is a huge player. Since most digital campaigns are now mobile, and Apple iOS holds 50% of the US smartphone market share, Apple has also been an essential part of the space. 
Recently, in the fall of 2020, Apple released its iOS 14 update which may completely change digital marketing as we know it. While the update features the common small changes like widget stacks, UI updates, and new features, it also comes with one big change that the advertising industry is worried about. 
Here's what you need to know about the new iOS 14 update and why it could threaten digital marketing as we know it.
Apple iOS 14 Update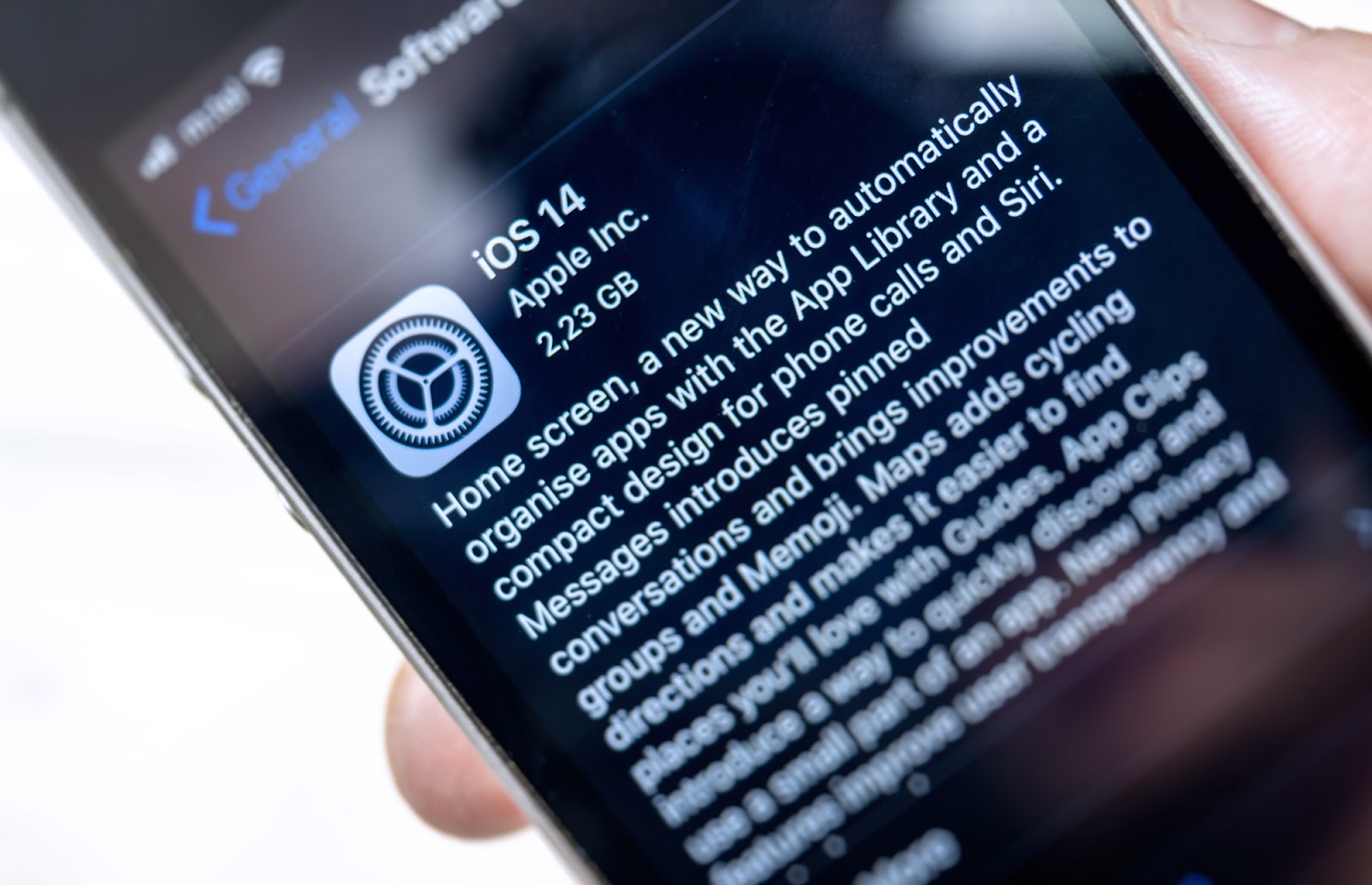 Apple announced its iOS 14 operating system in 2020. The update came with the typical UI changes, but it also includes enhanced privacy features. For a long time now, Apple users could set limits on their apps data tracking and sharing, but it previously required users to actively change a setting that many never did. 
iOS 14 was released in September 2020, and it includes some major privacy changes. The update will require that apps request permission to track the user, and the user will then respond to the prompt to determine whether or no their Identifier for Advertisers (IDFA) is shared.
What is IDFA?
The IDFA is the Identifier for Advertisers. IDFAs have played a critical role in advertising since 2012, and they work as an anonymous, deterministic ID. Advertisers use the IDFA for targeting measuring, segmenting audiences, privacy choices, and attribution. 
The new IOS 14 update will give users a popup altering them to opt-in or out of sharing the IDFA with different apps. They'll have a dashboard with all app privacy permissions as well.  Right now, 70% of iOS users share their IDFA data with publishers, but experts estimate that the number will drop all the way down to 10% to 15%. 
How Change Affects Browsers
The upgrade will also impact browsers. The iOS 14 Safari Intelligent Tracking Prevention (ITP) will inform users about how they are being tracked and what is blocked. The ITP is active by default on iOS browsers, and it impacts first-party cookies created by document.cookie and third-party cookies.
Why is Apple Changing the Approach to IDFAs?
Apple has long been known for having a strong stance on user privacy. Over time, they've taken several steps to allow users to opt-out of tracking or targeting. Apple presents the IDFA chance with iOS 14 as a step to protect its users' privacy. However, it's worth noting that Apple is a for-profit company. This decision may also allow Apple to monetize on new opportunities with advertisers or users. 
Facebook has openly disagreed with Apple's decision. They believe the policy is about profit. The change may force businesses to turn toward subscriptions and in-app payments instead of ads. If Apple owns the device and placements to sell to users, it could create an opportunity to sell paid spaces on its advertising network. Apple's own personalized ad platform is not subject to the new iOS 14 policy.
When Will This Happen?
iOS 14 has already rolled out. Within 5 days of its release, over one-quarter of all iPhone users updated to iOS 14. Over the last four years, over 90% of devices upgraded to iOS 13, so it's likely that the adoption rates for iOS 14 will be similar. The impact on businesses and advertisers won't be felt until enough Apple users upgrade their iOS or buy a new device with iOS 14. This will most likely be around the middle of 2021.
The Impact on Advertisers
Undoubtedly, the iOS 14 IDFA update poses major challenges for most platforms including Google, Snapchat, TikTok, Facebook, and more. While the change will impact many platforms, Facebook has been the loudest about their disagreements. Many are still unsure of how to adjust to these major changes. The two main areas that advertisers will be affected are:
Ad Measurement: Mobile Measurement Partners (MMPs) rely on the IDFA identifier for measurement and fraud capabilities. Apple has announced a replacement API, the SKAdNetwork) that allows for conversion data to be sent back at the campaign level, but it will still reduce the data that MPPs have to identify performance across mobile campaigns.
Ad Retargeting: Advertisers will not be able to retarget users based on device-level targeting if they opt-out of sharing their IDFA.
However, we may not see the true impact on Facebook and other apps until the majority of users upgrade to iOS 14. Additionally, we must see how many people choose to accept or reject the app tracking.
Will the Update Affect Organic Marketing?
The new IOS 14 update not only affects paid ads, it may also impact organic performance on apps like Facebook. Any newsfeed that relies on signals from the user to see who and what you interact with will be compromised by the update.
How this Affects Small Businesses
The iOS 14 change will impact all businesses to some extent, but it certainly could hurt small businesses immensely. According to Facebook, the changes will hurt small businesses and publishers by impacting their ability to use advertising efficiently. They estimate that small businesses could see a loss of over 60% of website sales from ads without personalized ads powered by user data. 
Up until now, many small businesses were able to take advantage of Facebook's highly accurate targeting. Facebook had an incredible ability to find the person that you want to reach, which lowered the barrier of entry for small businesses. Small business owners could spend more time on their messaging and creatives and less time trying to find their target audience. In response to the rollout, small businesses will have to work much harder at advertising and trying to get users to buy their products. 
Some of the specific ways that small businesses will be challenged include:
Media planning and activation. It will be harder to create target audiences through foot traffic patterns without location-based ad tech vendor formed profiles.
Campaign measurement and attribution. The iOS 14 updates make it much more difficult to track the iPhone user's precise location, which makes it harder to measure in-store foot traffic.
Individual channel attribution will change as returning users could be labeled as new.
Privacy will become a strategy for digital marketing and brand evolution.
Larger companies will face the same challenges, but they have far more brand-equity and a bigger margin to cushion them. 

Based on previous iOS adoption information, it's likely that we will see many of the updates from iOS 14 take effect in early to mid-2021 when more uses have adopted the new iOS system. While it's not fully clear what Apple's real intentions are behind the IDFA update, what we do know is that it poses a major challenge for advertisers, social media platforms, and small businesses.  For more information on the iOS 14 update and its impact, we recommend the iOS14 Guidance for Facebook Advertisers by Depesh Mandalia.