A personal profile on LinkedIn can be a great way to showcase your individual skills, talents, and personality to clients and leads. However, if you want to present a really professional image on the platform – and advertise your business at the same time – then creating an additional company page is probably the way to go.
Although most of your leads will probably still come from your personal profile – which you can use to interact with your connections in a more targeted and individual way – a LinkedIn company page is nonetheless a great way to demonstrate to potential clients that you are proud of your company and to let them know what it can do for them.
Plus, by creating an attractive logo for your company page you can ensure that your branding is consistent across your personal profile and any employee profiles as well!
On the other hand, if you do not have a LinkedIn Company Page, you are missing out on an easy way for interested connections to go on to learn more about your products and services elsewhere on LinkedIn after they have had a look at your personal profile.
Finally, by creating a LinkedIn company profile, you will be able to then integrate this with an effective LinkedIn advertising campaign in order to drive further leads to your business.
With all of these advantages in mind, it is well worth taking the time to create a LinkedIn Company profile for your business today!
Follow the simple steps below to get started:
How to Create a Company Page on LinkedIn
The first step, when creating a company page, is to navigate to the bar at the top of your homepage and click on the 'Work' option. In the list that now pops up click on 'Create a Company Page'.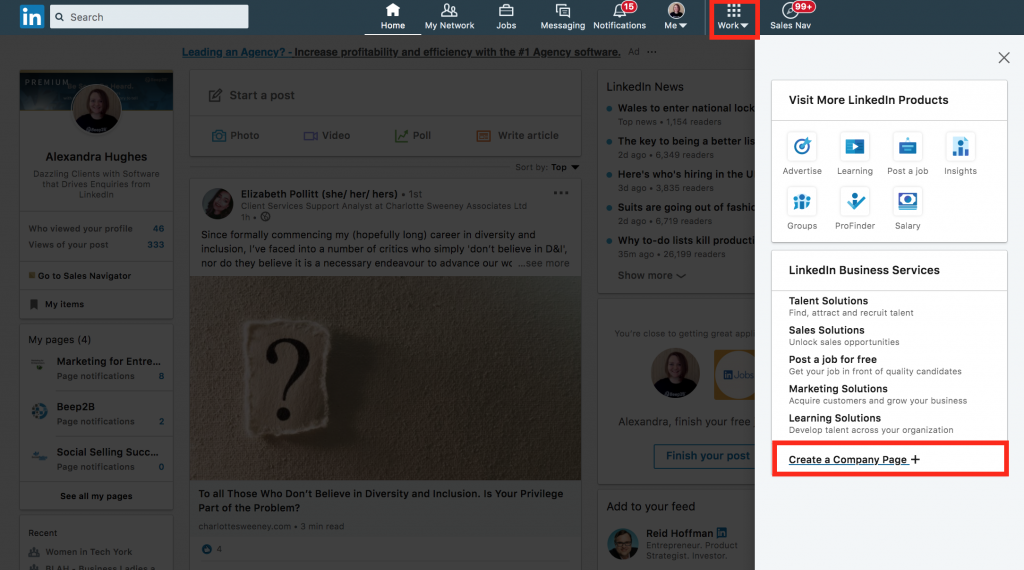 You will now be prompted to choose what type of page you want to create.
The options are:
Small business (fewer than 200 employees)
Medium to large business (more than 200 employees)
Showcase page (sub-pages associated with an existing page)
Educational institution (schools and universities)

After you have decided which of these options is most appropriate for your business needs, you will be taken to a new page. Here you will first be prompted to enter the name of your company. Be aware there is a limit of 100 characters here, but this should be more than sufficient for most businesses!
Also note that, if there is already another company on LinkedIn with the same name as yours you may also need to add some identifying information to the name field, such as your business location, in order to make it unique.
Your public URL will also be auto-filled as you enter your company name. It is usually best to leave this as it is, in order to make it as easy as possible for clients and leads to find your page later on.
The last thing to do in this section is to enter the URL of your company website. If this doesn't exist you can just leave this section blank as it is only optional.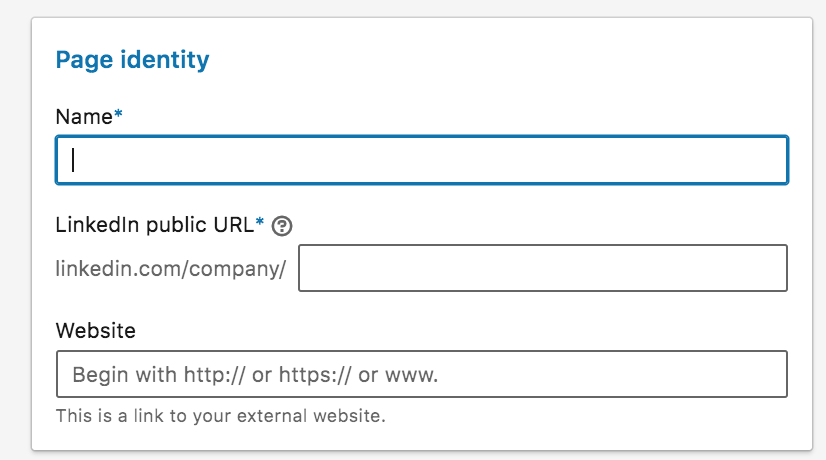 Scrolling down the page, you will then need to fill in the section on your Company details. This is fairly straightforward, so just make sure that you choose the appropriate options for your particular business (if you aren't one hundred percent sure what to put here just choose the most applicable options).
At the bottom of the page you will be given the option to add a company logo and a tagline to your profile, again this is optional so you can either fill it in now or leave it for later.
If you do decide to upload a logo at this stage, we recommend that you use a clear image that is around 300 x 300 pixels which should be in JPEG or PNG file format.
Finally, to complete the process, you will need to tick the box which confirms that you are an official representative of the company. On the right-hand side of the page, you will see that LinkedIn has generated a preview of your new Company page, if this all looks good to you then just click 'Create' in order to finalize it.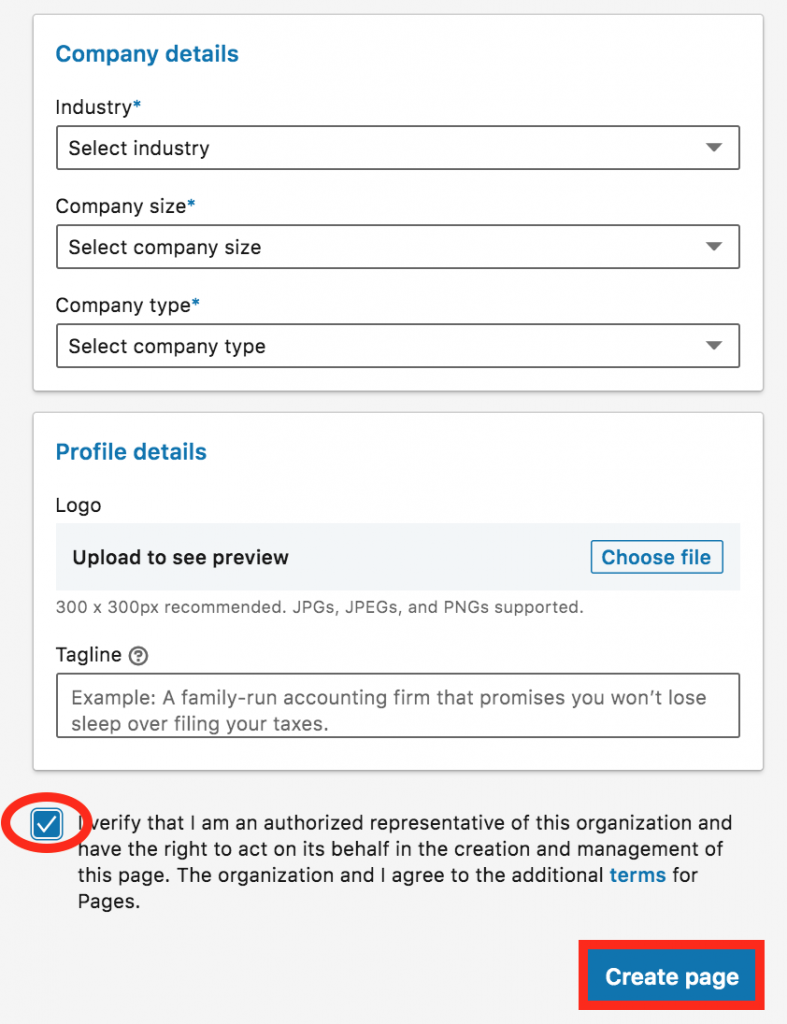 Conclusion
You now have a basic company page on LinkedIn. Of course, you aren't finished yet! As with your personal profile, it is not enough to simply set it up and leave it; you will also need to add content and take advantage of some of the more advanced features in order to really see the results you want!